Central Continental Bakery is Pine Manor's wedding cake and baked goods partner. CCB is featured on PinePerks.com and has been a Mount Prospect tradition since opening its doors in 1922. The bakery's website describes four generations of the best bakers in the Chicagoland area and it's no surprise that everyone raves about the delicious wedding cakes, pastries and baked goods that we use at our weddings and receptions.
Central Continental Bakery is not only one of the largest and most successful bakeries in the northwest suburbs of Chicago, but also the original site of Cook County Commissioner William Busse's home. in 1894 Busse built his family home on the land where CCB now stands. He was married in the home and raised his family there. Busse's was certainly the grandest house in Mount Prospect. There were formal sunken gardens behind the home and the home was used to entertain distinguished guests who came to town.
Weddings at The Busse House 1920
The house was so nice that a number of William Busse's friends asked to get married in his home, a tradition Pine Manor continues to take seriously today. A pastor would come to the Busse house and hold the ceremony in the Commissioner's parlor.
As William Busse got older and his children moved out, he decided to build himself a new smaller home. In the 1920s he built his new house directly behind his first house, were village hall is now. He then had his first house picked up and moved onto Emerson Street and gave it to one of his sons.
Busse then built the building that is now Central Continental Bakery and rented it out to Meeske's Market. Meeske's Market was a fixture in downtown Mount Prospect for 59 years.
Meeske's Market started in 1925 in the Busse Building on Main Street and built 101 S. Main in 1950 when they expanded. In 1973 the Meeske family sold the business, although the store maintained the name. The shop was closed in 1984 after going through a series of owners. The small locally-owned grocery store in downtown was not able to compete against massive chain stores in shopping plazas at the outskirts of town. After a renovation in 1984, the third generation owners of Central Continental Bakery, Roger and Robert Czerniak moved their bakery business from 22 North Main Street in Mount Prospect to its current location – the former Meeske's Market building.
The Busse Building was the building to the south of Central Continental Bakery (Meeske Foods) which burned down in 2014. The bakery survived the fire.
Central Continental Bakery, Inc.
First Generation started in Chicago in 1922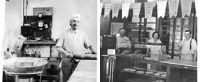 Teofil and Marie Czerniak arrived from Poland in the early 1900's in pursuit of the American Dream. They opened their first bakery in 1922 on Chicago's south side at 51st and Hermitage. The bakery moved to the 51st and Morgan area in 1927. The business survived the Great Depression and was relocated to the North Side in 1935 on Cortez near Kostner.
Second Generation 1948 Ted & Dolores Czerniak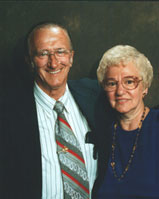 Ted and Dolores Czerniak began running the family business in a Polish and Slovak neighborhood in 1948. They were a pillar in the community they served throughout the fifties and into the sixties. Operating under the vision of Ted's parents, they continued to serve the favorites of the public.
Third Generation Roger and Robert Czerniak opened Central Continental Bakery in Mt. Prospect, 1979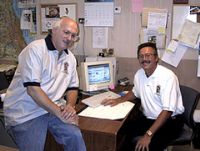 Roger and Robert Czerniak opened Central Continental Bakery in Mt. Prospect, Il. in 1979 at 22 N. Main St. As business increased the bakery moved to a larger building in 1984 and is still located today at 101 S. Main St. in Mt. Prospect. Further expansion took place in 1994 when the business opened up a wholesale bakery division in Elk Grove Village, Il. The wholesale division delivers fresh baked goods daily to Chicagoland corporations, retail outlets, food service industries, and health care facilities.
Fourth Generation TODAY!
A fourth generation of Czerniaks is currently involved in bakery production and retail sales and continues to use the family's original time honored recipes from over 3/4 of century ago.
RESEARCH FOUND:
– http://www.centralcontinentalbakery.com/index.asp
– https://www.hstry.co/timelines/over-100-years-of-mount-prospect-history
– http://www.dailyherald.com/article/20160114/news/160119568/ photo and article